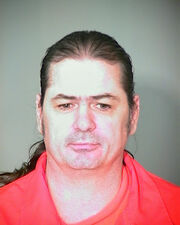 Personal Information
Edit
Inmate #114690
Gender: Male
Ethnicity: Caucasian
Date of Birth: August 26, 1958
Family Information: Unknown
A.K.A. Unknown
Case Information
Edit
Pima County Superior Court Case #CR45587
Date of Offense: May 1, 1994
Victim: Rachel Gray, age 4 female
Criminal History Before Offense
Edit
Aggravated Assault With a Deadly Weapon, 1978
Crime Description
Edit
Follow link for full description: https://theintercept.com/2017/10/23/barry-jones-arizona-death-row-rachel-gray/?comments=1#comments
On May 1, 1994, Jones was seen hitting Rachel Gray with his hand and elbow in his van while her mother was sleeping. When her mother awoke, she saw that Rachel's head was cut and she was bleeding. Jones would not allow Rachel's mother to take her to the hospital, even though her condition did not improve throughout the night. When she was finally taken to the hospital, she was pronounced dead from a ruptured intestine.
Judge: James C. Carruth
Prosecutor: Kathleen Mayer
Defense Attorney: Sean Bruner
Trial commenced on April 5, 1995. On April 14, 1995, the jury returned guilty verdicts to the charges of First Degree Murder, Sexual Assault, and three charges of Child Abuse. Total trial length was 10 days. On July 6, 1995, Jones was sentenced to death on the First Degree Murder charge and life plus 35 years for the other charges.
Post Conviction Information
Edit
In 1997, the Arizona Supreme Court upheld the conviction and sentence on appeal.
External Links and References
Edit