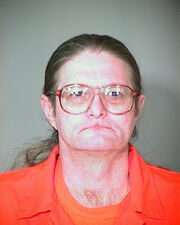 Personal Information
Edit
State of Arizona Inmate #045045
Gender: Male
Ethnicity: Caucasian
Date of Birth: September 3, 1947
Family Information: Unknown
A.K.A. Unknown
Case Information
Edit
Pima County Superior Court Case #CR5669
Date of Offense: March 11, 1980
Victim: Sandra Owen, age 29 female
Criminal History Before Offense
Edit
Crime Description
Edit
On March 11, 1980, Lambright, Robert Douglas Smith, and Kathy Foreman picked up a hitchhiker, victim Owen. Smith raped Owen while Lambright and Foreman had intercourse, then Owen was stabbed multiple times with Foreman's knife. Owen's throat was then slit, and a large rock was thrown on her head while she was still conscious. Her body was not found for one year.
Judge: Michael J. Brown
Prosecutor: James D. Himelic
Defense Attorney: Carmine Brogna
Trial commenced on March 25, 1982. On March 30, 1982, the jury returned verdicts of guilty to the charges of First Degree Murder, Kidnapping, and Sexual Abuse. Trial length was 6 days. On May 27, 1982, Lambright was sentenced to death for the First Degree Murder count, and 42 years for the other counts. Foreman testified against Lambright in exchange for immunity.
Post Conviction Information
Edit
In 1993, the Arizona Supreme Court upheld the conviction and sentence on appeal.
External Links and References
Edit
Ad blocker interference detected!
Wikia is a free-to-use site that makes money from advertising. We have a modified experience for viewers using ad blockers

Wikia is not accessible if you've made further modifications. Remove the custom ad blocker rule(s) and the page will load as expected.