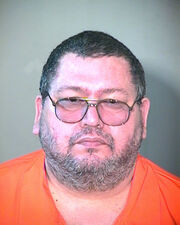 Personal Information
Edit
Inmate #232539
Gender: Male
Ethnicity: Hispanic
Date of Birth: July 8, 1948
Date of Death: March 9, 2011 (age 62)
Family Information: Unknown
A.K.A. Unknown
Case Information
Edit
Date of Offense: December 9, 1997
Victim: Kenneth Cloud
Criminal History Before Offense
Edit
Crime Description
Edit
On December 9, 1997, Kenneth Cloud was shot in the neck by Accardo while sitting in his truck in a parking lot of a restaurant. Kenneth Cloud's wife, Kay Cloud, was convicted of conspiring with and paying Accardo to murder her husband. Accardo was not arrested until five years after the murder.
Judge: Larry Kenworthy
Prosecutor: Frank Collins
Defense Attorney: Ray Hanna and William Michael Smith
Trial commenced in April 2008. On July 9, 2008, the jury sentenced Accardo to death for the murder of Kenneth Cloud. On August 1, 2008, Accardo was sentenced to life in prison without the possibility of release for the Conspiracy to Commit First Degree Murder charge.
Post Conviction Information
Edit
Direct appeal pending before the Arizona Supreme Court. Vincent Accardo died of a heart attack in prison while on death row.
External Links and References
Edit
Ad blocker interference detected!
Wikia is a free-to-use site that makes money from advertising. We have a modified experience for viewers using ad blockers

Wikia is not accessible if you've made further modifications. Remove the custom ad blocker rule(s) and the page will load as expected.